We are a full service certified tanning facility with a variety of lay down and stand-up sun beds. All our Tanning Consultants are trained and certified. Our facility is clean, well kept, and the beds are properly maintained to ensure the best tanning experience possible for our clients. Our staff is not only certified and knowledgeable, but friendly as well, so you can expect to feel comfortable and welcome.
For those that prefer an alternative to sun beds or require a more immediate tanning solution, we also offer spray tan services. We can customize the shade of your spray tan and apply it to just your upper body, lower body, face or do a full body spray tan, depending on what the occasion might call for. Our spray tan technicians are professionals and trained experts at applying an even tan. Our spray tan solutions and equipment are always pre-tested before each application in order to ensure the highest quality results possible. Our hand held spray devices are of the highest quality and are cleaned daily. They are kept well maintained in order to avoid any issues with solution flow that might result in blotches or clumping.
We are conveniently located in Brampton (right at the Mississauga border), on the northwest corner of Hurontario and Ray Lawson Blvd. inside the City South (Longo's) Plaza (behind the McDonalds). For more information about how to contact us, or for directions, view our contact page or come by our salon for a visit!
Our Promise
Cleanliness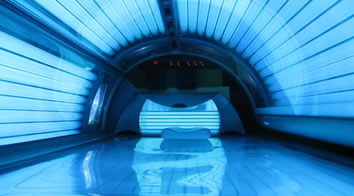 Our highest priority is protecting our clients by ensuring the ongoing cleanliness of our salon and the equipment used. Not all tanning facilities are created equal, especially when it comes to cleanliness. It's extremely important to take great care in making sure the salon is well kept and clean overall but even more important when it comes to the accessories worn and the equipment you touch. Cross contamination and spreading of germs, viruses, and bacteria is a direct result of neglect and uncleanliness.
In order to keep our salon clean and prevent this, we use a hospital grade sanitizing solution to sanitize all contact surfaces on our beds and eye wear. Our towels are washed in-house after each use. Lastly, we encourage our clients to wear protective eye goggles. Any eye wear we provide for you is put into a sanitization jar after each use so they are fresh and sanitized for the next person that uses them.


Tanning Safety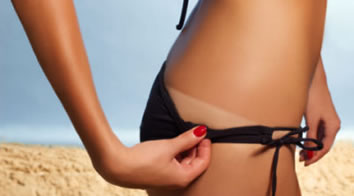 Help protect yourself while on vacation by getting a base tan before you go. A tan is nature's way to help block unneeded excess sun light that can burn your skin.
Nature also designed your skin to make Vitamin D. We make Vitamin D from UVB light naturally. Your skin needs UVB light to make the vitamin D that your body needs. The risks of Vitamin D deficiency are well understood. The benefits of maintaining proper blood serum levels of Vitamin D are undisputed.
Skin is your body's largest organ. It performs many functions that are vital to your health and well being. Nature designed your skin to produce Vitamin D. To make Vitamin D, your skin needs moderate exposure to UVB light. With regular exposure to UVB light, your body will maintain healthy blood serum levels of Vitamin D.


Trained & Certified Staff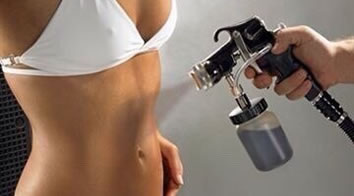 Safety and trained staff go hand in hand. Often what looks like neglect of tanning best practices, is actually the result of the staff lacking in knowledge and proper training. We don't take this matter lightly. Not only is our team experienced, highly trained and certified, but they are also there to educate clients and prevent any issues from occurring. Our experienced staff will ensure your session is safe and effective. You will get the tan you want and the comfort level you need.